Prep time:
Cook time:
Total time: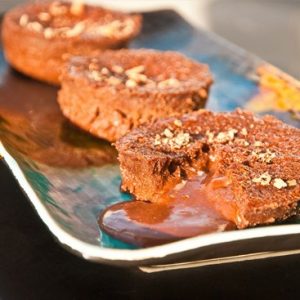 Ingredients
For the caramel sauce with sea salt:
0,5 pound of sugar
2 tablespoons of water
20 cl of liquid cream
0,1 pound of butter
1 pinch of sea salt
For the extra runny dessert :
0,4 pound of caramel sauce with sea salt made previously
0,1 pound of unsalted butter
0,1 pound of sugar
0,1 pound of flour
2 eggs
1 pinch of sea salt
Instructions
For the runny dessert:
Begin by mixing the eggs and sugar until frothy, then add the flour and sea salt.
For the caramel sauce:
Cut the butter into cubes.
First of all, heat the liquid cream. In another container bring the sugar and water to the boil until the colour becomes dark brown. Remove from the heat and add the hot liquid cream and stir. Add the butter you previously cut into cubes and the sea salt. Bring it all to the boil and leave to simmer for 2 to 3 minutes, stirring. Remove from the heat.
Continuation of the preparation for the runny desserts
Take 150g of this mixture and add the 50g of cubed butter and mix until the butter has melted. Add this preparation to the dough already prepared. Mix until a homogeneous dough is obtained. Preheat the oven to 220°.
Pour this preparation into buttered and floured ramekins. Bake for 7 to 8 minutes at 220 °. Serve warm.
Advice: for an even greater gourmet taste, if you still have some caramel left, add a good teaspoon full to the centre of your ramekins and bake!